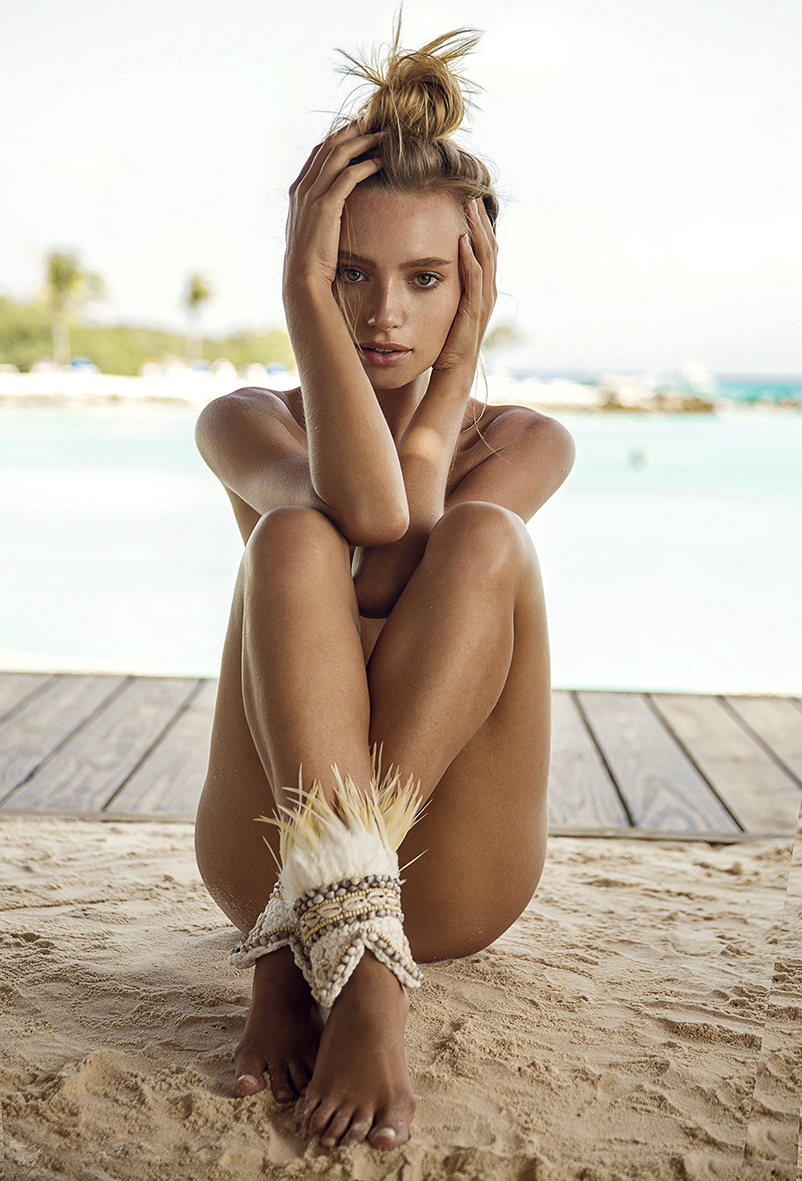 ELECTRA GILLIES OF THE
ECO GYPSY
The Eco Gypsy is an ethical and handcrafted concept created by Electra Gillies in Bali.
Originally founded as an Eco Travel Magazine, Eco Gypsy has expanded into handmade swimwear and holiday homes designed by Electra and now Partner, Lorenzo Sannito.
Creating a nomadic aesthetic that is both sustainable and beautiful, Eco Gypsy provides the complete experience for conscious and stylish wanderers.
Shop Eco Gypsy online.
HOW WOULD YOU DESCRIBE YOURSELF AND ECO GYPSY?
I'm a bit of a global gypsy, I am British and half Indian, but spent a lot of my childhood living in and being brought up around a mix of countries and cultures. I moved to Bali 12 years ago.
I spent 10 years in London, but I grew up in the English countryside. We travelled to the Maldives a lot, and a seashell belt given to me at 12 years old by a fisherman there seemed to evolve into our entire swim brand aesthetic - one of my most treasured pieces. I buy all the shells in the collection from Sea Gypsies that are naturally collected around the Indonesian Archipelago and all our cowries are CITES approved and have paperwork from the Government to ensure no endangered species or unsustainably harvested pieces are used.
WhHAT INSPIRES YOU EVERY DAY?
Travelling and different cultures, especially tribes or very traditional ways of living and craftsmanship. I am happiest when in the middle of nowhere discovering new places and ways of life. I am also driven by a desire to create a beautiful brand from nature whilst not harming the environment and using The Eco Gypsy as the voice for ethical choices in travel and fashion is my main focus.
TELL US WHAT YOU LOVE MOST ABOUT ECO GYPSY?
It comes naturally to me.....an eco ethos throughout a brand - it was an emerging movement when I founded The Eco Gypsy. My desire to make a completely handmade barefoot luxury brand for people to travel, dress and sustainably stay with us made sense to me, as well as creating something that was true to my personal aesthetic of island style.
HOW DID ECO GYPSY COME TO BE?
I was a freelance eco travel journalist for years. I have a Masters in Environmentalism. A love of fashion and having many cottage industries in Bali at my fingertips that used to make me personal pieces just organically led to the brand. In 2015, I set up the eco travel magazine with articles from trip to Africa, on safaris who were way ahead of their time in terms of conservation and eco travel. Then at the end of the year I launched a few swimwear pieces & accessories that were the basis of the swim brand that luckily immediately took off on Instagram and through word of mouth.
WHAT IS ONE OF YOUR PROUDEST MOMENTS IN SHAPING ECO GYPSY?
Opening The Eco Gypsy Houses in Bali this year and also waking up one morning early on to Gwyneth Paltrow posting our ankle cuffs asking who made them that led to an exclusive collaboration with Goop in 2017. The cuffs were also used in Victoria's Secret Swim Special in 2016 & a Maroon 5 video which was pretty amazing as several supermodels had personally worn pieces of the collection after seeing them.
AND ONE OF THE HARDEST TIMES FOR YOU AND ECO GYPSY?
Probably now! I have taken almost a year off after having my second child and to complete our property as part of the brand. Getting back into what seems to be a changed industry is challenging. It has moved so fast and become oversaturated on social media it has changed the dynamics of consumerism - sometimes for better, but more often than not it is an image that is not telling your story or reflecting a culture or ethos. Its a difficult balance as a brand to choose how best to promote it without losing the integrity by selecting the right people to work with in this digital landscape.
WHO ARE YOU LOVING WORKING WITH RIGHT NOW?
My partner, Lorenzo Sannito, who designed and built The Eco Gypsy Houses in Bali with artisans from Indonesia and crafted from a sustainable forest - a dream that took shape over a few years. We have created something completely unique together and taken the brand to another audience in addition to the eco swimwear and travel tales that feels like the completion of a cycle yet only the beginning of the realization of a dream to continue to grow.
WHAT CREATIVE WORK HAS YOU EXCITED RIGHT NOW?
Our new macramé swimwear is a personal favourite, as the work that goes into them is unbelievable, and the one piece takes 3 weeks to make from offcuts of our other spandex pieces that are upcycled. I love using traditional techniques to create modern pieces. I think new materials are going to be a game changer and we are currently looking to make the change to the recycled nylon from plastic for some pieces. The handcrafted Eco Gypsy Houses take my breath away every time I am there - it really motivates me that machines can never replace anything we have made with soul & love.

I am also very excited to have launched our Eco Gypsy SS19 Collection. It is very true to our style, but has far more complexity in the designs but a more classic feel - it is the maturing of the label. The learning curve of our property in Bali has definitely been a great growing process and inspiring us to keep perfecting The Eco Gypsy.
WHEN YOU'RE NOT WORKING WHERE WILL YOU BE?
Travelling, relaxing with my family and being near the sea - I love new experiences but at the end I never feel fully relaxed unless I am near the ocean somewhere for a bit.
WHAT DO YOU SEE AS A REAL CHALLENGE FOR THE INDUSTRY RIGHT NOW?
I think the biggest challenge is green washing - it has always been a problem in the travel industry and now in fashion with so many brands claiming to be ethical or sustainable it is going to be very hard to distinguish the genuine brands. It is impossible to be 100% eco throughout the entire production process but I would love to see some sort of industry standard or rating in both the eco travel and fashion businesses soon.
ELECTRA GILLIES
THE ECO GYPSY
SHOP ECO GYPSY ONLINE